NFL History: 50 Former Alabama Players Have Made It To A Super Bowl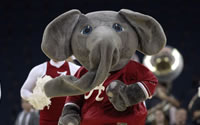 The New England Patriots and the Philadelphia Eagles can thank the 30 NFL teams that they defeated for their opportunity to play in Super Bowl LII, but there is possibly one other team that also deserves gratitude – the Crimson Tide.
The Philadelphia Eagles will not only be making their first Super Bowl appearance in 12 seasons, they will also be sending the 50th former Alabama player to the Super Bowl.
Chance Warmack, a reserve guard for the Eagles, won the BCS National Championship three times while a member of the Crimson Tide. He went on to be the tenth overall pick in the 2013 NFL Draft and has 51 career starts.
Warmack represents the 50th alumnus to be on the active roster of a Super Bowl team, though this does not necessarily mean that we will see him on the field. If this is the case, he could also become the 10th former player to make it to a Super Bowl without playing time.
Alabama has a longstanding history of sending players to the big game, with Super Bowl 52 marking the 14th season in a row with at least one former Crimson Tide player on the active roster of the AFC or NFC champion team.
The five teams to win the Super Bowl have had at least one Alabama player, including Dont'a Hightower (LI, XLIX), James Carpenter (XLVIII), and Courtney Upshaw (XLVII).
Cornelius Bennett, a 5-time Pro Bowler and 3-time All-Pro, holds the record for most Super Bowl appearances by a Crimson Tide alumnus. The linebacker played in five Super Bowls, making him two short of the all-time appearances record that Tom Brady will set when he hits the gridiron on Sunday night.
The Philadelphia Eagles are 4.5 underdogs heading into the record-setting matchup, with Warmack being the only Alabama alumnus on the Eagles' side. The favored New England Patriots do have former Crimson Tide members Dont'a Hightower and Cyrus Jones, however, both players are currently on injured reserved. The game total for Super Bowl 52 is 48 ½ points for sports betting in Alabama.