Alabama Approves Bill For DFS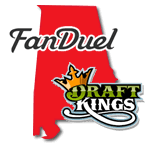 The Alabama House of Representatives passed a bill allowing for paid-entry fantasy sports contests in the state and it will now go to the Senate for the next round of voting. It passed by way of a 43-38 vote after the state decided that fantasy sports do not fall under Alabama's anti-gambling laws.
This was a surprising result because just last year the Alabama attorney general (now U.S. Senator), Luther Strange, requested that the big name daily fantasy sports sites like DrafKings and FanDuel stop operations and now this new regulation includes DraftKings as well as FanDuel.
The big debate about the topic was centered on whether or not DFS games were games of chance or games of skill and the House even attempted not to put this up for a vote or a debate at all and moved on to the next bill. There was then confusion with the voting machines and the bill was ultimately brought back up for consideration.
A debate on the topic ensued and it was heated, to say the least. The debate lasted almost two hours as each member of the house touched on the issue and expressed their thoughts. One member even called out several other representatives that he claimed place bets on college football games regularly. His point was clearly to show how ridiculously hypocritical it was to be voting against something that even some representatives partake in, but it certainly caused a stir.
This new bill is huge for the DFS movement as Alabama was once one of it's most opposed states. If the Senate passes the new bill as well, it would regulate fantasy sports contests and the operators will be taxed accordingly. After the wild debate and close vote in the House, expect the Senate to be a similar scenario. There's no telling how the vote will go but it is absolutely a step in the right direction for fantasy sports and sports betting in Alabama, regardless of the results.