Alabama Cautiously Eyes Sports Betting Legalization In Mississippi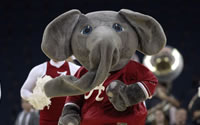 When the majority decision from the US Supreme Court came down to overturn the Professional and Amateur Sports Protection Act, there were ripples from that call that extended far beyond New Jersey.
The Garden State might have been the one slugging it out before the highest court in the land with the pro sports leagues and their coalition of groups interested keeping sports betting more or less contained to Las Vegas or relegated to legal offshore sportsbooks, but other states will reap the benefits too. That's because PASPA, which was passed in 1992, had for more than a quarter of a century prohibited 46 of 50 states from regulating sports betting if they wished, and now that the law has been overturned by the Supreme Court, many states around the country are moving quickly to pass sports betting laws of their own.
Alabama is not one of those states. On the other hand, nearby Mississippi, which is home to the thriving gambling hubs of Tunica Resorts in the north and Biloxi on the Gulf Coast, will be one of the first states to open a legal casino sportsbook. You can probably see how this has people that are heavily involved in sports in the Heart of Dixie, from the Crimson Tide's head coach Nick Saban to South Eastern Conference Greg Sankey, more than a little concerned.
Speaking at the SEC's Spring Meeting, held late this week through the weekend at Destin, Florida's, Hilton Sandestin Beach Resort, Saban told reporters that his priority going forward in this post-PASPA situation is to make sure there is no underhanded dealings going on, what with sports betting being more widely legal. We expected to hear something similar from Saban, who is kind of famous for never acknowledging the point spread when pushed to comment on the topic, but his view is not that off base. Sports betting may not have been legal outside of Nevada in any meaningful capacity for 25 years or so, and it may not ever be in Alabama (but more on that later), but sports betting is definitely going on, so the goal has to be making sure the integrity of the game is not compromised.
After all, what else can anybody really do at this point? It's not like Alabama is not one of the most sports betting-happy states in the whole country, and it's not like offshore betting websites haven't been serving the cotton state unimpeded (and untaxed and unregulated) for years with no downsides. Just having the possibility for legalized state-sanctioned sports betting in a nearby state probably won't cause a shift in the way college sports play out, but there will be an impact, particularly as Mississippi is gearing up to launch sportsbooks in practically every one of its nearly 40 casinos statewide by the middle of June.
"The only thing I worry about, and I think people are going to do what they're going to do, is protecting the integrity of the game," Saban told reporters at a press conference after Thursday night's meeting. "I don't think it's going to be a big change actually because people have always bet on games."
As for Sankey, he is a little less – shall we say – optimistic. Sankey said "we are in a new dynamic" now that PASPA is dead and buried. There are plans in the works (though details are sparse) to have somebody at the SEC head office in "constant communication" with the states around the country that will start rolling out sports betting offerings. That's basically a necessity for the SEC however their plan works out in the end, as the conference's universities are some of the most consistently dominant in certain sports, especially football, so naturally there will be multitudinous opportunities for SEC teams to be playing in states where legal betting is going on.
Of course the administrators and coaches are going to be telling their players and staff members that they can't be betting on sports when they visit these states, otherwise the universities will face some stiff penalties under even the most permissive sports wagering laws out there. That doesn't even take into consideration what could happen if student-athletes get caught being involved in betting, much less taking bribes to throw games or shave points to keep their team from covering the spread. In either of those cases, reporting to the proper authorities has to be the first thing done, and the SEC will do everything it can to make sure anyone contacted about unduly influencing the outcome of a game will feel confident about speaking up.
But then again, there is only so much that can be done, realistically, to stop improper sports betting from taking place. This is a major concern for the state of Alabama, as incoming and outgoing lawmakers have been involved in an on-and-off battle over something as comparatively benign as video bingo terminals. Sports betting, frankly, has a much, much wider appeal throughout the entire country, and, in the South, where football is the de facto secular state religion, there are few places where approval for sports betting will find a more fertile ground to grow.
Alabama, unlike its Gulf Coast neighbors and states farther north, does not have a very highly developed casino industry or even much of a betting culture. There are a whopping four casinos in the state, as state law only allows for charitable or tribal gaming, and none of the casinos that do operate in the Cotton State so much as offer table games for their patrons. In fact, the only gambling location in Alabama where anything remotely resembling sports betting goes on is the VictoryLand greyhound race track and casino, which no long even holds live dog races but does solid business in the dog- and horse-racing simulcast sector.
The overwhelming disparity between the demand Alabamians have already shown for sports betting and the lack of political will for sports wagering legalization in the state is why the aggressive move to being offering sports betting as soon as possible in Mississippi is seen as a cause for concern. Mississippi quietly removed its own state-level ban on sports betting when its statehouse passed an amended version of a law offering protections for daily fantasy sports (DFS) contests in the state. However, Mississippi has one of the largest casino and gambling industries in the country – probably the fourth-biggest after Las Vegas, Atlantic City and the entire state of California – and with all those sportsbooks opening right across the border, the folks back in Alabama are casting some nervous glances in the Magnolia State's direction.
But are those worried looks, strictly speaking, necessary? Alabamians may not fill out a poll saying they love to bet on sports, but the numbers don't lie: a tremendous proportion of the estimated $150 billion to $250 billion Americans wager on sports at offshore betting sites comes from the states that have successful professional and college teams. Can you realistically think of teams that have been dominant and successful in recent times and not put Alabama and Auburn near the top of that list? Clearly there is a case to be made that Alabama's voters should decide whether or not they would like to have sports betting become legal in their state via a voter referendum.
Then there is the issue of money. Alabama could always use more of it, and if the millions of dollars wagered by its state residents continues to flow to overseas sportsbooks, legal as they might be, nobody in the Cotton State is going to be able to say their road was repaved because of taxes levied from those sites. If Alabama could craft some regulatory framework that would satisfy the competing interests – perhaps by following Mississippi's example and limiting sports betting to existing gambling license-holders at casinos and race tracks – then there no reason that offering sports betting would necessarily be so bad.
The only alternative is to maintain the state of things as they are, in which everybody from the sports fans to the lawmakers to the players and coaches of some of the best football teams in America knows that sports betting is happening but nothing is done about it. The fact of the matter is that midterm elections are coming up, and Alabama voters that might be interested in legally placing wagers on their favorite teams in their own state might want to consider giving a phone call to the candidates and see what they think about it.
We think the people of Alabama ought to be heard on this matter, whether sports betting in Alabama becomes legal or not.