Alabama College Football Coaches Talk About Sports Betting Legalization At Annual SEC Spring Meeting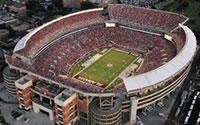 University of Alabama head football coach Nick Saban and other coaches, along with athletic directors from various SEC schools tackled questions on the possible fallout from sports betting legalization nationwide at the conferences annual Spring Meeting.
Indeed, sports wagering – which is not expected to become legal in Alabama despite the US Supreme Court's decision to overturn the Professional and Amateur Sports Protection Act of 1992 (PASPA), the federal law that had banned sports betting legislation from taking effect in 46 states – was one of the major topics of discussion at the meeting. That being said, University of Alabama Athletic Director Greg Byrne and his counterpart at Auburn, Allen Greene, told CBS Sports news reps on hand in Destin, Florida, where the Spring meeting is being held, that they have not been in contact with the governor's office either. If there is any kind of sports betting legalization or regulatory bill coming down the pipe, the Heart of Dixie's two biggest sports schools – and two of the most prominent in the nation – don't know about it.
When asked the same question, Saban indicated that he doesn't know anything about future legislation in the State of Alabama that could make sports betting legal either, but he is concerned about wagering on college sports being allowed to go on in more places other than the Las Vegas Strip.
"If everyone is going to be able to instantly bet on their own as to whether this guy is going to be able to make a field goal or whether they're going to score a touchdown in the red area, that could be a problem," Saban told media reps gathered at the Hilton Sandestin hotel for the SEC Spring Meeting. "It could create tremendous negative feedback social media-wise. What if the guy misses?"
Though Saban said he was not worried if the Crimson Tide missed covering the spread (other than that he would obviously rather for his team to do well on the field) just because it could cost sports bettors money, he did concede that the inevitable bad press resulting from the situation could have a negative impact on his players.
Auburn's Greene more or less agreed with Saban's appraisal, but he added another wrinkle to the discussion. The truth is, he said, it does not even really matter if the state of Alabama legalizes sports betting or not, as the state and its top tier athletics programs will be affected one way or another. Not only will Alabama collegiate athletics programs have to keep their players out of sports betting – for their own good and to avoid violating state laws, which we have found almost always prohibit participants in sporting events from wagering on those events – but also members of the coaching staff as well as support personnel. When sports betting was limited to Nevada and legal offshore sportsbook sites based overseas, the exposure of sports betting was fairly limited outside the hardcore bettors that are deeply into the hobby.
"The most important thing in our opinion is that there's integrity with our student-athletes, educating our student-athletes and fans and making sure we're not operating in a way that's not appropriate for intercollegiate athletics," Greene told reporters at the press conference.
Bryne, on the other hand, can speak with a little bit of experience on the matter, having worked at Arizona for years while the Pac-12 Conference's annual basketball tournament was held in Las Vegas – indisputably the world's foremost center for all forms of sports betting. He said that, at the time, the policy was to issue a "reminder" for student-athletes, letting them know about the hazards of getting involved in sports betting. Still, it was pretty easy to keep close tabs on the players in that instance, as being in a tournament setting means there was not a ton of free time for wandering around Sin City.
But the issue remains: how will the SEC's schools – arguably some of the best and certainly some of the most prominent in the nation, particularly in football, as SEC schools have dominated the sport in recent decades – will handle travel to more states that have sports betting now when they didn't before May of 2018. The possible ramifications of this question go all the way to the top of the SEC organization. SEC Commish Greg Sankey even recently said that his office would be looking into setting up a "line of communication" with the states that have legalized sports betting options, though who exactly will have that responsibility is unclear at this point.
The main goal, Sankey indicated, of having this line of communication between the SEC and the individual states that have passed laws to legalize sports wagering (presumably with whatever office is in charge of sports betting regulatory matters) is to make sure that the integrity of college sports is maintained. There is a worry among coaches, athletic directors and top conference officials that, with sports betting in Alabama becoming more and more widespread, more normalized, there could be more instances of people trying to get ahold of injury information directly from sources involved in the SEC's athletics programs, for instance. That doesn't even get into the prospect of outright attempts to fix games.
Presumably, more details on these and other topics will be released by the SEC, or will come out in the course of further interviews with coaches and athletics directors at Alabama's premier sports universities.