Horse Racing Betting In Alabama
The very first racing commission in Alabama was established in 1971 in Mobile County and since then, four racing commissions have been created in the state that authorize horse racing betting in Alabama. Though residents can visit tracks in AL, there has not been live horse racing available since 1992. Instead, patrons can bet on races simulcast from various horse race tracks from across the nation. Horse racing is still popular within the state, with most residents opting to use online racebooks for horse racing betting in Alabama.
Horse enthusiasts in Alabama can bet on numerous races at online racebooks, including the Alabama Stakes, Breeders' Cup, Kentucky Derby, and more. Even though horse betting sites may be preferred, it is also beneficial to learn more about in-state options and the overall legality of wagering in the state. You should also be interested to find out the best sites for horse racing betting in AL and the types of horse bets accepted. Horse enthusiasts will find that there are a few parallels between online horse betting and sports betting in Alabama.

Online Horse Racing Betting Sites
Horse racing betting in Alabama is most convenient when using an online racebook. It almost doesn't make sense to visit an OTB location that focuses more on greyhound racing than horse betting if your primary goal is to bet the ponies. Alabama horse betting sites have all of the traditional options that you would find at a racetrack or OTB location, plus more. You can get rebates back your horse bets and claim deposit bonuses. There will be track odds, but you can also find horse racing futures that are not available elsewhere. Some of the best online racebooks accepting AL residents are Bovada, BetOnline, and SportsBetting.
Best Alabama Racebooks - 100% Trusted + Safe
Is Horse Racing Legal In Alabama?
Horse racing betting is legal in Alabama on both state and federal levels. Alabama has laws legalizing pari-mutuel wagering in the state, with the government issuing licenses to racetrack operators. The Interstate Horseracing Act (IHRA) is a federal law that authorizes an out of state operator to accept action on races occurring at a host track, as long as both states have legalized pari-mutuel wagering. Alabama residents can legally bet the ponies whether it be at a local track, OTB location, or online.
2022 Kentucky Derby Betting Odds In Alabama
Odds on the 2022 Kentucky Derby are not hard to come by in Alabama as they can be found at different online racebooks. There you will be able to place bets on Derby prop bets and the normal futures odds for the outright winner. The odds are open 24/7 in the days leading up to the race. It is set to take place on Saturday, May 7 from Churchill Downs in Louisville, Kentucky where Epicenter has the shortest odds to win.
Why Is Betting On Horses Not Considered Gambling In Alabama?
This is a regulation that has been set forth on the national stage, not just the state level. Betting on horses is considered pari-mutuel wagering and not gambling due to the fact that everyone is playing with each other's money. When you visit a casino, you are playing against the house; however, when you visit a horse racing track, you are pooling your money with the other gamblers and getting paid out accordingly.
How To Bet On The Horses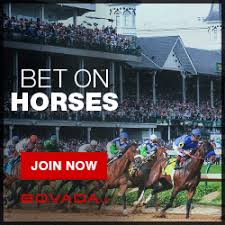 Even though there are hundreds of races each year, the horse bet types never change. Horse bets fall into two categories: straight or exotic. Straight horse bets are on one horse, while exotics are more complex and involve more than one horse. You can read more about each horse bet type below:
Straight
Win – Put money on your horse to win the race outright.
Place – Bet on your pick to win first or second place.
Show – Wager on your horse to finish anywhere in the top three.
Across the Board – Combines W/P/S bets into one wager, with a potentially larger payout should your horse win. For example, if your horse wins, you will receive the payout for all wagers. If your horse places, you will receive the place and show payoffs. A third-place win would only yield the show payoff.
Exotic
Exacta – Bet on the winning horse and runner-up in exact order.
Trifecta – Wager on the top three horses of a race in specific order.
Superfecta – The most difficult wager, you must pick the first, second, third, and fourth place horses exactly.
Box – Boxing your bet allows you to wager on all possible combinations. For example, if you bet a trifecta box, your selected horses can finish in any order rather than in exact order.
Where Can I Bet On Horses In Alabama?
There are a couple of places that residents can visit for horse racing betting in Alabama. The state does not currently have live horse racing, but there are four locations that offer simulcast horse racing. Two of these venues are entertainment facilities that also offer gaming in addition to horse racing betting opportunities. Fans can bet on races like the Alabama Stakes (ironically) from off-track betting locations throughout the state.
Birmingham Race Course (Birmingham)
Mobile Greyhound Park (Theodore)
Victoryland (Shorter)
Greenetrack (Eatuw)