Mississippi Sportsbooks Are Opening Today, And Alabama Sports Fans Should Be Thrilled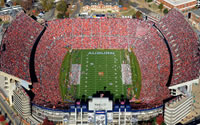 History was made at high noon on Aug. 1 in Mississippi, as the first two legally placed bets on a sporting event were processed simultaneously at opposite ends of the state in what will surely go down as the first of many such wagers.
This makes Mississippi the third state to offer a casino sportsbook product for their patrons, following New Jersey and Rhode Island in doing so following the May 2018 decision by the US Supreme Court to overturn the patently unconstitutional Professional and Amateur Sports Protection Act of 1992 (PASPA). The repeal of PASPA was perhaps one of the true watershed moments for the entire gambling world to take place in the last 50 years, as there are now no barriers from the federal level on down to any state legalizing and regulating its own sports betting industry. Indeed, nearly two dozen state around the country are either in the process of passing new laws to legalize sports betting or are amending existing ones to the do the same, with Connecticut, New York, Pennsylvania and West Virginia set to follow Mississippi as the next states to make sports betting legal.
The Beau Rivage Resort & Casino in Biloxi, on the coast of the Gulf of Mexico, and the Gold Strike Casino in Tunica Resorts, located on the Hospitality State's northern border with the state of Tennessee, were the sites of the two wagers. One was placed by former running back for the Miami Hurricanes Willis McGahee, twice an NFL Pro Bowl participant, while the other was made by legendary local oddsmaker Danny Sheridan. Though fanfare was felt throughout the South and all over the Magnolia State, there were plenty of sports fans that are understandably quite joyous in the Heart of Dixie, as Mississippi is the closest state to Alabama where sports betting is both widespread and legal.
That last bit is the important part, seeing as – no matter where in the state of Alabama you would be driving from, whether that is Montgomery or Mobile – there is nowhere closer to your hometown to bet on sports legally than somewhere in Mississippi, which, perhaps more than any other single factor, Mississippi sportsbooks are in such high demand at the moment. Long seen as the regional hub for casino gambling, the Hospitality State kicked things into high gear in 2017, when, in a stroke of pure genius, lawmakers in the gaming expansion friendly state, amended the existing state statutes that had just a few years before guaranteed the legality of daily fantasy sports, to make single contest sports wagering legal as well. This strategy for passing substantial gambling reform was brilliant in that it enabled the Magnolia State's lawmakers to avoid either significant infighting or squabbles with the major pro sports leagues that other states looking to legalize sports wagering had to go through, sometimes unsuccessfully.
Even as Mississippi is beginning to roll out its sportsbooks at Class III casinos across the state, the question remains as to whether or not Alabama will itself ever pass legislation that would make it legal for the state's legions of sports fans to bet on their favorite sports. Fortunately, we can report that, unlike lottery contests (which are almost inexplicably banned), sports betting is not banned in explicit language in the Alabama state statutes, meaning that the only thing the state's lawmakers would need to do in order to affect the change that, frankly, most Alabama residents are probably fine with is to give its collect assent.
But that assent, it seems, may be a long time in coming, if the day ever arrives at all. Look no further than the failure that has met any attempt to get a state lottery off the ground despite highly successful state lottos in neighboring states such as Florida and Georgia. Alabama Attorney General Steve Marshall went on the record with local media as saying that, in his opinion, the best way to solve the issue once and for all would be to call for a voter referendum, and that would mean an amendment to the Alabama constitution itself that specifically outlines sports betting as a permissible wagering activity.
Should Alabama somehow legalize sports betting, the Poarch Band of Creek Indians already operate three casinos in the state in the cities of Atmore, Wetumpka and Montgomery, all of which could – in theory anyway – be prime candidates to become the first Alabama sportsbooks, seeing as they already have the other appropriate licensure befitting their status as Class III casinos. However, the tribes themselves may not want to get into the business of hosting sportsbooks for various reasons, not least of which could be an expansion to their already not inconsiderable tax responsibilities on gambling revenues. With that being said, the Poarch Creek's leadership have not issued any word indicating that they have concrete plans to make a push for sports betting or against it in the wake of the US Supreme Court's landmark decision to overturn PASPA.
This leaves Alabama sports betting enthusiasts with two choices. They can either hit the road for Biloxi, Tunica Resorts or the Indian reservations of nearby Mississippi, where sportsbooks will soon be up and running within months if not weeks, or head over to any number of legal offshore sportsbook sites such as Bovada, BetOnline, SportsBetting, BetDSI and 5Dimes. There are advantages to each option, but we know which one we would pick – offshore sportsbook sites like the ones we just suggested are 100 percent legal and do not require bettors to spend money driving out of state just to put some money on the Crimson Tide.
We think the situation pretty much speaks for itself at that point.